CALCULATED RISK (2019)
(The Ritual – The Installation – The Story)
"Een man beklimt een berg alsof hij over een touw loopt, gespannen tussen twee bergtoppen. Met een rookwolk op zijn rug gebonden. Alsof hij gelooft dat hij zelf van rook is gemaakt, zo licht. Hij gelooft dat de rookwolk hem lichter maakt. Hij gelooft dat geloof bergen verzet en dat hij omhoog kan vallen." – Peter Verhelst
Calculated Risk van evenwichtskunstenaar Kasper Vandenberghe bestaat uit drie innig met elkaar verweven delen: The Ritual, The Installation en The Story. Het publiek kan dit drieluik in een willekeurige volgorde gaan bekijken en beluisteren. Het parcours vormt een poëtische zoektocht naar hoeveel kwetsbaarheid we vandaag nog bij onszelf kunnen toelaten, in een westerse wereld die hartstochtelijk gelooft in de maakbaarheid van mens en maatschappij. Hoe kunnen we kwetsbaarheid toch als een kracht begrijpen? En hoe blijven we tezelfdertijd bestand tegen de winden regenvlagen des levens? In Calculated Risk danst Vandenberghe zo op de slappe koord tussen twee diepmenselijke verlangens: het verlangen naar balans en dat naar een bodemloze sprong in het onbekende.
(English version below)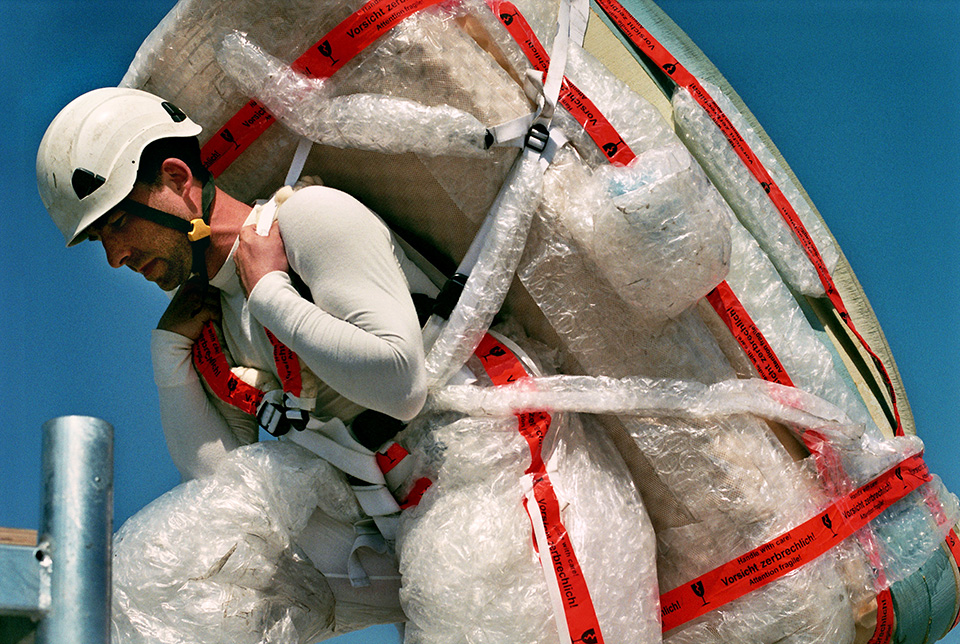 Voor The Ritual kloutert hij in een harnas van matrasvulling en bubbelplastiek op een stelling naar boven, om zich vervolgens als een steen naar beneden te laten vallen van precies vier meter twintig hoogte. Het is berekende waaghalzerij. Het is een ode aan de breekbaarheid en buitengewone veerkracht die de scheppende kunstenaar verwant maakt aan het spelende kind. Elke stap van het ritueel wordt begeleid door een tekst van Peter Verhelst.
The Installation laat het atelier van Vandenberghe zien. De museale opstelling maakt het monnikenwerk achter zijn meticuleuze onderzoek naar vallen en opstaan zichtbaar. Tijdens The Story ten slotte gaat hij in op diverse aspecten van het ingecalculeerde risico. Hij brengt verslag uit van zijn gesprekken met vakspecialisten (zoals een circusartiest, hypnotiseur en verzekeraar) om dieper door te dringen tot de grondeloosheid der dingen. Hij houdt een persoonlijk relaas over wat wellicht het belangwekkendste ingecalculeerde risico in ons leven is: de liefde. En door een uiterst vertraagde montage van zijn valbeweging verschijnt Vandenberghes onderneming opeens in een volledig ander licht.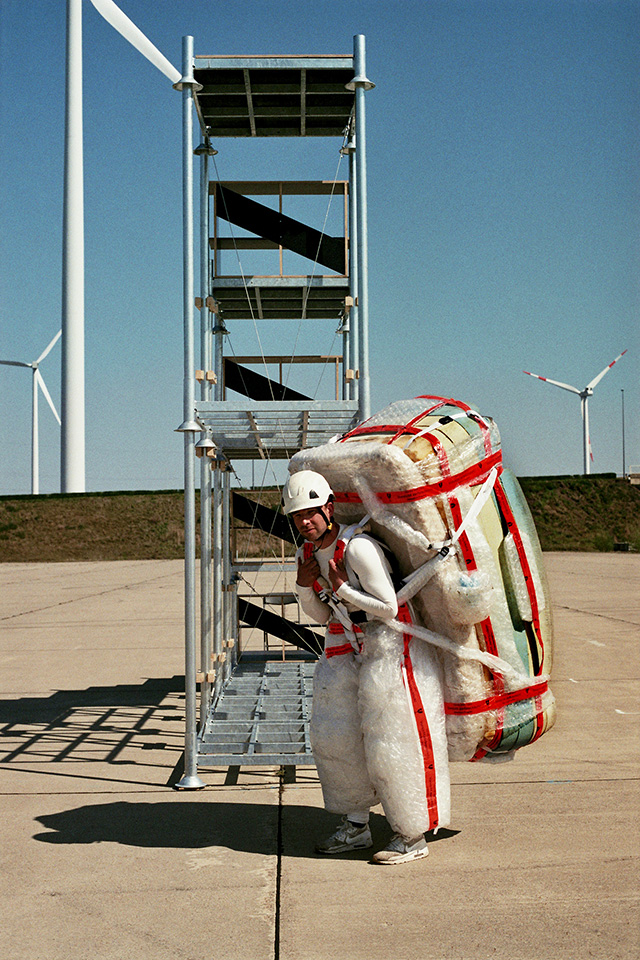 Calculated Risk by equilibrium artist Kasper Vandenberghe is composed of three intimately entwined parts: The Ritual, The Installation, and The Story. The audience can experience this trilogy in any order they wish. The course, then, becomes a poetic quest for how much vulnerability we allow ourselves today, in a Western world that passionately believes in the perfectibility of humankind and society. However, how could we perceive vulnerability as strength? And, simultaneously, how do we withstand the gusts of wind and rain of life? In Calculated Risk, Vandenberghe dances on the flaccid tightrope between two profoundly human desires: the desire for balance and the desire for a bottomless leap into the unknown.
In The Ritual he climbs a scaffold, dressed in a harness of mattress stuffing and bubble wrap, only to let himself fall like a stone from a height of exactly four meters and twenty centimetres. It is calculated recklessness. It is an ode to the fragility and exceptional resilience that the creating artist relates to a playing child. Moreover, every step of the ritual is accompanied by a text by Peter Verhelst.
The Installation shows the studio of Vandenberghe. The museal setup reveals the drudgery behind his meticulous research into failing and trying again.
During The Story, he explores the different aspects of the calculated risk. He gives an account of his conversations with field specialists (like a circus performer, hypnotist, insurer) to further dissect the bottomless vacuum of things. He offers a personal testimony examining what might be the most significant calculated risk in our lives: love. By excessively slowing down the visual recording of his fall, Vandenberghe's actions are put into a whole new light.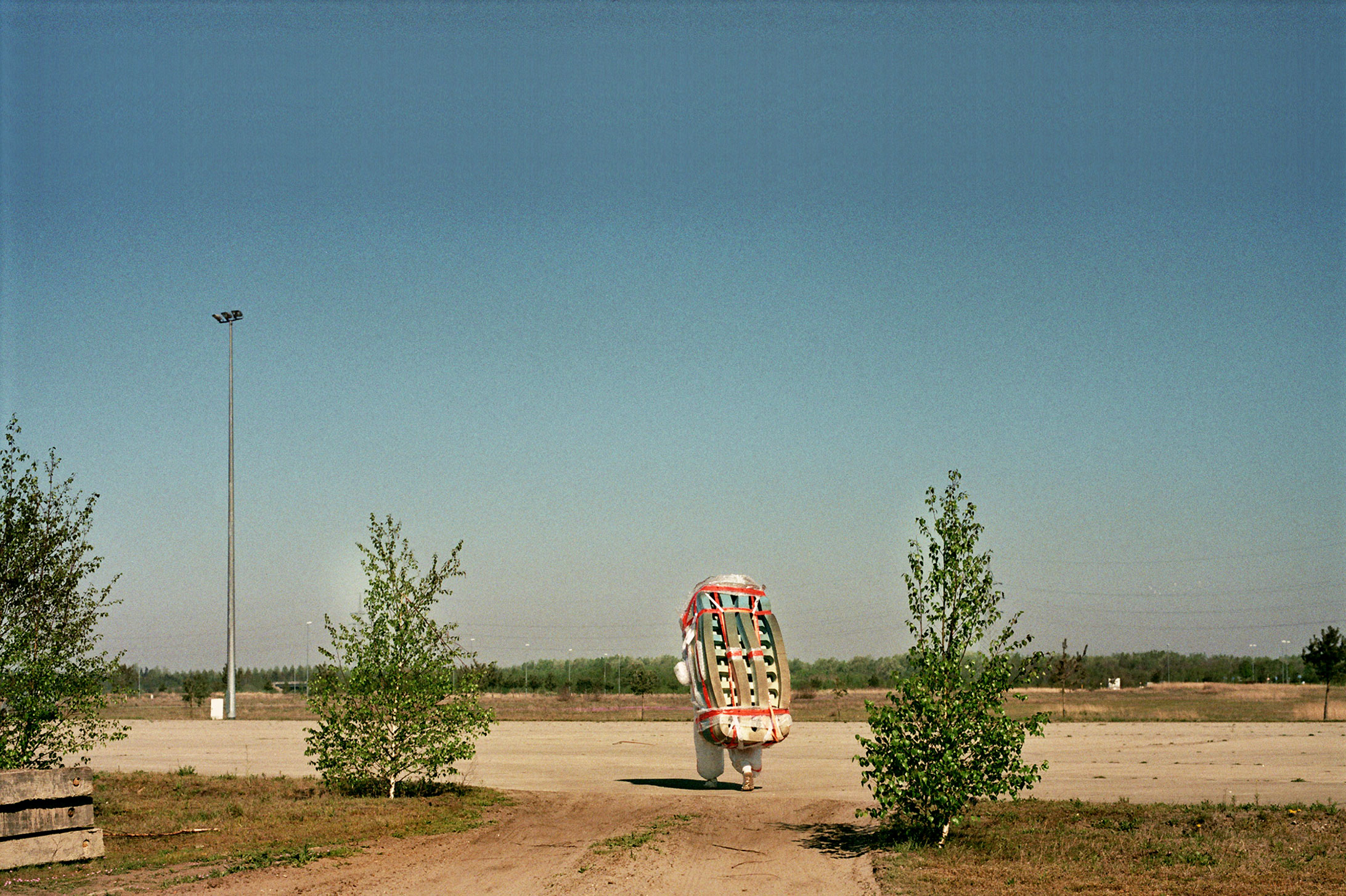 CONCEPT, PERFORMANCE & REGIE / DIRECTION – Kasper Vandenberghe
DRAMATURGIE / DRAMATURGY – Matthias Velle
ARTISTIEK ADVIES / ARTISTIC ADVISE – Katrien Bruyneel
TECHNISCH ADVIES / TECHNICAL ADVISE – Philip Van de Gehuchte
TEKST / TEXT The Ritual – Peter Verhelst
SCENOGRAFIE / SCENOGRAPHY The Ritual – Pepijn Gyssels
MOTION ENGINEER The Ritual – Wiebe Van Gansbeke
RESEARCH The Ritual – Fisheye team
PHYSICAL COACHES The Ritual – Arne Sabbe & Simon Bruyninckx (Collectif Malunés)
KOSTUUMONTWERP / COSTUME DESIGN The Installation – Kasia Mielczarek
TEKST / TEXT The Story – Kasper Vandenberghe
CAMERA & MONTAGE The Story – Pieter Van Campe
GELUIDSONTWERP / SOUND DESIGN The Story – Frederik De Clerq
PRODUCTIEMANAGER / PRODUCTIONMANAGER – Yacoba Corral Davalos
23 jun 2019 (Première)
Almost Summer Festival, Kortrijk (BE)

29 jun 2019
Working Title Festival, Brussels (BE)

12-14 jul 2019
Cirque Plus, Bruges (BE)

20-21 jul 2019
Gentse Feesten, Miramiro, Ghent (BE)

16-18 aug 2019
Pukkelpop, Kiewit (BE)

15 sep 2019
Leffingeleuren, Leffinge (BE)

20 sep 2019
Dommelhof, Neerpelt (BE)

11 okt 2019
Leietheater, Deinze (BE)

12-13 nov 2019
Pilar, Brussels (BE)
13 – 15 aug 2021
Kaapstad, Tilburg (NL)
Co-productie / Co-Produced by
Met de steun van / Supported by
De Vlaamse Gemeenschap Circusdecreet, Fisheye Wetteren, Abriso Anzegem, SONHOUSE Sound Production Agency, Belgian Tax Shelter, Vooruit Gent, Circuscentrum Gent, Campo Gent, Buda kunstencentrum Kortrijk, workspacebrussels, LARF! Gent, Troubleyn / Laboratorium, De Grote Post Oostende, Handelsreizigers in ideeën, Perpodium
INTERVIEW
THE BOTTOMLESSNESS OF THINGS
Marc De Kesel with a cultural-philosophical perspective on Calculated Risk
Tijdens zijn bochtige calvarietocht op weg naar de creatie van Calculated Risk ging performer Kasper Vandenberghe in gesprek met vele vakspecialisten, die hem telkens een ander perspectief boden op zijn heldhaftige onderneming: zichzelf laten vallen van een vooraf berekende hoogte, zodat hij zijn zelfbehoud op het spel zet maar zijn veiligheid niettemin gegarandeerd is. Zijn traumatoloog, project-ontwikkelaar en psychotherapeut passeerden de revue. Een hypnotiseur hielp hem over zijn hoogte-vrees heen. Een circusartiest onderwees hem de technische kneepjes van het vak veilig vallen. Aan een verzekeraar vroeg Vandenberghe of hij zichzelf financieel kan behoeden voor dat berekend vallen en – metaforisch gesproken – voor een mogelijk traumatiserende verlieservaring. Filosoof Marc De Kesel, wiens werk focust op de vraag wat het betekent om modern te zijn, vroeg hij ten slotte naar de cultuurfilosofische betekenis van zijn ingecalculeerde risico in het licht van de moderniteit waarin wij vandaag leven.
Een fragment uit het exposé van De Kesel:
VOLLEDIG ARTIKEL
ENGLISH VERSION