BITBYBIT (2020 – 2021)
MOVEDBYMATTER i.s.m. Collectif Malunés
BITBYBIT combineert een klassieke circustechniek (Jaws of Steel) met een beeldrijk verhaal over twee onafscheidelijke broers (Simon en Vincent Bruyninckx van Collectif Malunés). Tijdens het even sensitieve als spectaculaire kijkstuk doorlopen zij samen alle aggregatietoestanden van hun relatie: van tweestrijd en lichtvoetig spel over voorzichtige toenadering tot blind vertrouwen en totale overgave aan elkaar.
Tussen hun stalen kaken klemmen zij elk het uiteinde van een touw, dat hen als een navelstreng met elkaar verbonden houdt. Dat beeld is tegelijk het startpunt voor een grensverleggend vormonderzoek en voor een tactiele terreinverkenning vanwaar hun eigen ik ophoudt en dat van de ander begint.
De hyperfysieke regie (Kasper Vandenberghe van MOVEDBYMATTER) en zinderende soundtrack (Dijf Sanders) maken BITBYBIT tot een rituele ervaring, tot een evenwichtsoefening tussen vallen en veerkracht tonen, dankzij een verbondenheid die zo intens en onvoorwaardelijk is dat ze de beperkingen van onze anderhalvemetermaatschappij kan overstijgen.
(English version below)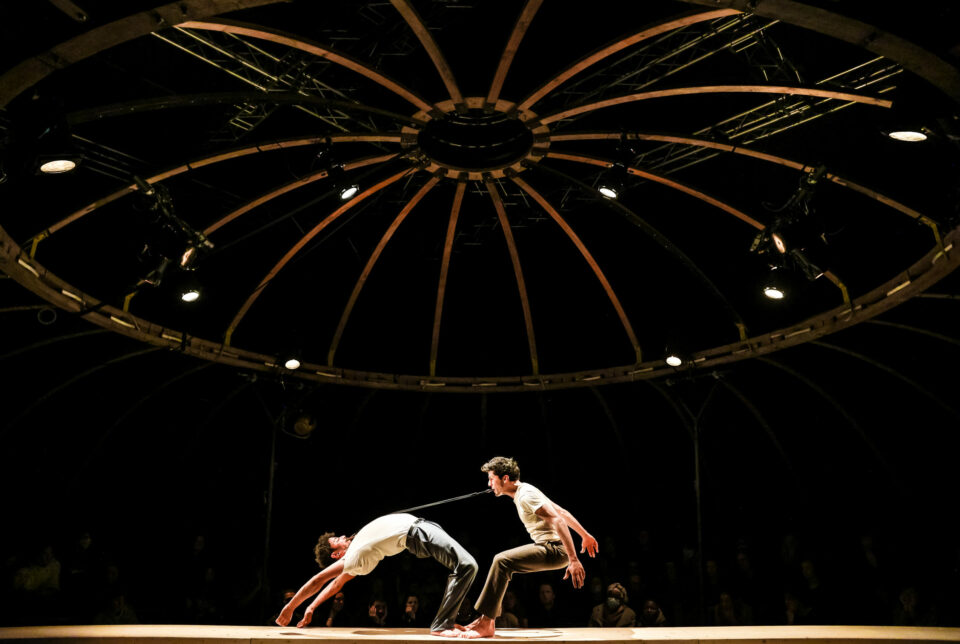 Beeld door Kalimba Mendes
ENGLISH VERSION
The distinguished circus collective Collectif Malunés demolishes walls between various branches of the arts with an unearthly pleasure. They have this urge in common with MOVEDBYMATTER led by performance artist Kasper Vandenberghe.
In their first production together, BITBYBIT, Vandenberghe and the Bruyninckx brothers find each other in the balancing act between connectedness and resilience on the one hand, and the inevitable fall on the other, a sense of loss lurking behind every corner. Quite literally: in a visually rich direction by Vandenberghe, the brothers experiment with a particular circus technique for which they are completely dependent on each other for their safety.

This moment is the culmination of a year's worth of artistic research and physical training, but also of the brothers' lifelong sharing of joys and sorrows. They've grown up together and have become circus artists together. They'd spent more time in each other's presence than many wedded couples of the same age. Then, bit by bit, they've let each other go, missing each other immensely, however. BITBYBIT is the ultimate rapprochement attempt. For the first time ever, the brothers meet in the ring.
BITBYBIT is the physical dissection of a brotherhood. Sometimes shrunken to a scanty look of recognition or rather enlarged to mythical proportions like Cain and Abel (brotherly hate) or Castor and Pollux (brotherly love). They mold themselves to each other's manly images or rather attempt to escape them. They openly confront who they became thanks to and despite of one another. However, because they're brothers, they'll always remain inescapably condemned to each other.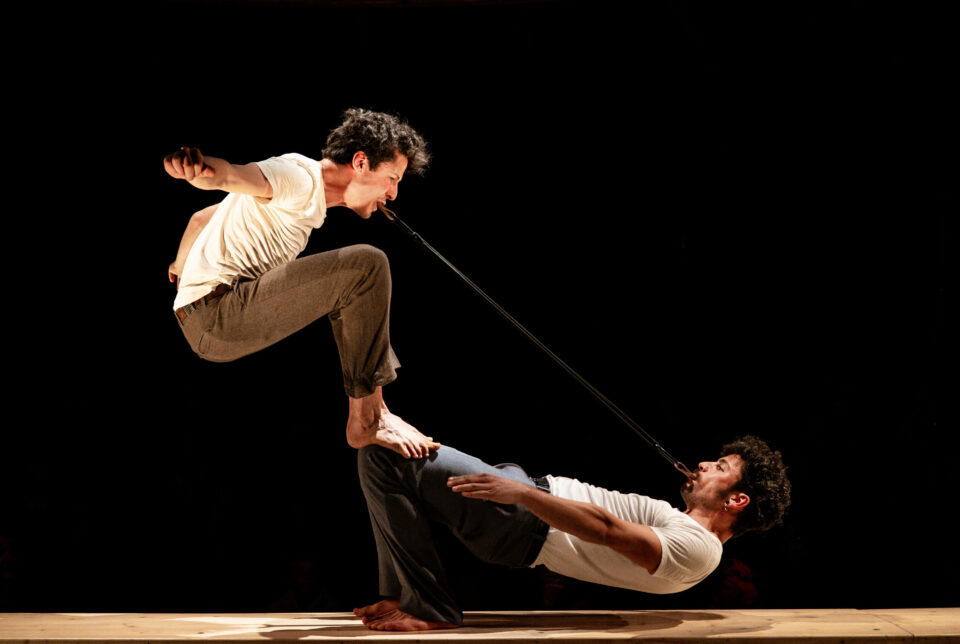 Beeld door Kalimba Mendes
CONCEPT – Simon Bruyninckx, Vincent Bruyninckx & Kasper Vandenberghe
SPEL / PERFORMANCE – Simon Bruyninckx & Vincent Bruyninckx
REGIE / DIRECTION – Kasper Vandenberghe
DRAMATURGIE / DRAMATURGY – Matthias Velle
STAGE REGIE / INTERN DIRECTION – Leon Rogissart
MUZIEK / MUSIC – Dijf Sanders
KOSTUUMS / COSTUMES – Johanna Trudzinski
BEWEGINGSADVIES / EXERCISE ADVICE – Esse Vanderbruggen
PRODUCTIE / PRODUCTION – Leon Rogissart

GELUID / SOUND – Anthony Caruana & Sofia Zaïdi
LICHT / LIGHT – Olivier Duris & Benjamin Eugène
TECHNISCHE ONDERSTEUNING MONTAGE / TECHNICAL SUPPORT MONTAGE – Kunstencentrum BUDA
ZAKELIJK LEIDING / FINANCIAL DIRECTION – Lieselotte Deforce
ZAKELIJK ADVIES / FINANCIAL ADVICE – Wim Viaene & Wouter Vermeylen
COMMUNICATIE / COMMUNICATION – Zoë Hoornaert
SPREIDING / DIFFUSION – Emma Ketels | je buro
MET STEUN VAN / WITH THE SUPPORT OF De Vlaamse overheid, De Stad Gent & taxshelter van de Belgische federale Overheid
Coproductie / Co-Produced by
CIRKLABO/30CC, C-TAKT, KAAP, Miramiro, Perplx, Perpodium, Theater op de Markt – Dommelhof, workspacebrussels
Residenties / Residencies
workspacebrussels, MiraMiro, CAMPO, Perplx, Jatka78 Praag, Theater op de Markt – Dommelhof